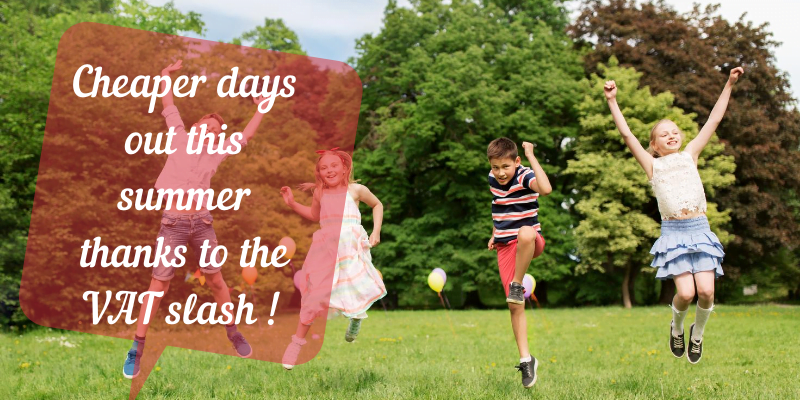 In a recent post, we explored eateries across Kent and Sussex who were participating in the latest 'Eat Out to Help Out' scheme, as part of the Government's £5bn support initiative to sustain jobs and aid economic recovery across the hospitality and tourism sectors.
As part of the deal, the Chancellor also announced a six-month VAT reduction from from 20% to 5% within these sectors, including venues such as restaurants, pubs, cafes, food halls, theatres, circuses, fairs, amusement parks, concerts, museums, zoos, cinemas, exhibitions and other cultural events and facilities. While this is great news for the industry, it's also great news for visitors who are set to benefit from any venues who chose to pass on these cost savings to their customers.
With the cuts set to begin from July, there should be plenty of deals to be had this summer, so for those of you who are itching to get out and about, check out some of our favourite attractions across Kent and Sussex.
Fast food at great prices
Several fast food chains have confirmed they will be passing on the tax cut to their customers by lowering the prices of meals and hot takeaways (whereas cold food such as sandwiches is already VAT-free).
Nando's will be reducing the price of all menu items except alcohol. McDonald's has reduced the price of its brand classics such as the Big Mac, Quarter Pounder and Chicken McNuggets. Meanwhile, KFC is dropping the price of its sharing bucket by £1 and other popular items by 50p. Pret is offering a number of discounts on coffees and hot food. Coffee giant, Costa, is offering a "FREE welcome back coffee" through its app, while rival coffee house, Starbucks, will be offering discounts on eat-in food as well as coffee-based drinks. Finally, Wetherspoons is slashing the price of all menu items (including breakfasts, pizzas and burgers), as well as coffees, soft drinks and even alcohol.
Staycation, staycation, staycation
The great news for holidaymakers it that the reduction also applies to holiday accommodation, hotels, B&Bs, campsites and caravan parks – although it only applies to new, rather than existing, bookings. So, if you're planning a family holiday in the UK, you could pick up a bargain this summer.
Marriott and Accor Hotels (who own Ibis, Mercure, Novotel and Sofitel) have announced they will pass on the VAT cut to customers. Meanwhile, Park Holidays in Kent and Sussex have confirmed they will also be passing on their savings at the following destinations: Birchington Vale; Marlie, New Romney; Seaview, Whitstable; Alberta, Whitstable; Chichester Lakeside; Coghurst Hall, Hastings; Harts, Isle of Sheppey; New Beach, Dymchurch; Pevensey Bay; Rye Harbour; and Winchelsea Sands.
There are also some great Airbnb deals across popular beachside resorts such as Camber Sands, for instance an apartment from £60pppn, Pontins from £15pppn, Parkdean £18pppn or an Airbnb townhouse from £49pppn.
Or just down the road in Rye, you can enjoy three nights in a converted barn from £98pppn. Alternatively, enjoy seven nights in a cottage with Airbnb from £46pppn. Or just a stone's throw away, opt for three nights in a lodge at Winchelsea Beach from £25pppn.
Attractions and days out
With attractions steadily reopening, now is the time to plan your days out. Here are some of our family favourites:
Despite Dreamland announcing their amusement park rides won't be operating this summer, they will instead be hosting events for the whole family to enjoy, such as weekend festivals, film nights and DJ sets. Please check out their website for more information. Elsewhere, Hastings Pier will be hosting free live music performances and DJ sets every Friday between 24th July and 11th September, from 4pm until 11.45pm.
If your little ones love Diggerland, you'll pleased to know they have re-opened, although they recommend that visitors pre-book their admission tickets to be guaranteed entry into their parks. Similarly, Port Lympne Reserve and Safari Park have confirmed that ALL tickets must be booked in advance. Drusillas Park is also great family attraction which includes a zoo, soft play, water play, mazes and rides. (Check out our next blogpost for a full round-up of kids' attractions to keep your little ones entertained this summer).
 It looks as though we have a great summer ahead of us, so be sure to look out for venues who are making a conscious effort to pass on their savings to customers!