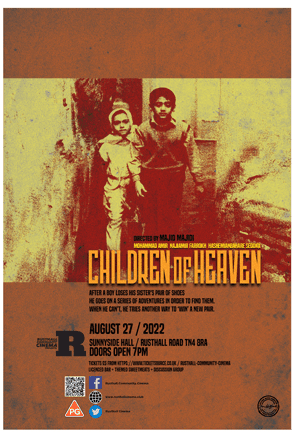 Event Description
Two children concoct an elaborate scheme to cover up the loss of a pair of shoes in this family drama from Iran. Ali (Mohammad Amir Naji) and Zahra (Mir Farrokh Hashemian) are a brother and sister growing up in a poor neighborhood. Ali is given the responsibility of picking up Zahra's shoes from the repair shop, since she needs them to attend school.
Ali makes the mistake of setting them down outside a market, and moments later they're swiped by a beggar. Ali and Zahra are convinced that their parents will be furious when they discover the shoes have been lost, since they can't afford a new pair, so Ali gets an idea -- Zahra is scheduled to attend classes in the morning, while Ali goes to school in the afternoon. Zahra can wear Ali's sneakers to school, and she'll trade them off to Ali when he comes in for the afternoon session.
They hope the scheme will work long enough to keep Zahra in school until her shoes can be found, but matters get more complicated when Ali is entered in a 4k run. Bacheha-Ye Aseman was a surprise international success, earning enthusiastic reviews around the world and winning the Grand Prix du Americas at the 1997 Montreal Film Festival.
Event Details
---
Times
Doors Open at 7:00PM
Starts at 7:30PM
---
---
Venue
Sunnyside Community Hall,
Tunbridge Wells,
TN4 8RA

Get Directions
---
Book

Event Website
Event Tags

Indoors

Enquire
About this event
---