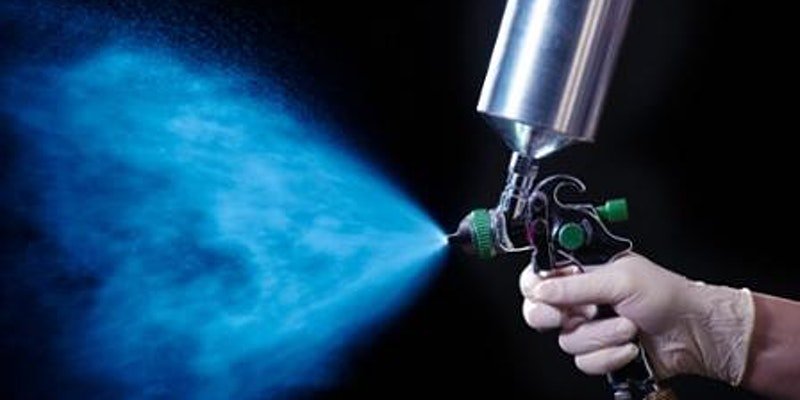 Event Description
Class numbers will be restricted to no more than 2 people.
Those attending class will be asked to bring their own masks and gloves please.
Benches and tools will be wiped before use.
If you want to learn how to spray paint or produce special finishes this is the course for you. We go through EVERYTHING from the basics of the guns to how to clean them when you're done. If you want to renovate your kitchen or respray your kitchen cupboard doors with an antique effect, spray paint an old table for a fresh modern look with a professional finish. How about painting a brick wall in a quarter of the time or your classic car, you will learn all the techniques you need to do it all. We cover everything from complete beginner level.
All spray equipment and safety equipment (face masks) provided but wear long sleeve shirts and work trousers and old shoes. This is paint we're dealing with so you may get some on you. This is a hands on course for 1-2 people, you will be prepping, mixing, spraying, and cleaning.
COURSE CONTENT
Gun and compressor choice
Gun types (gravity, suction, pot, air brush and touch-up)
HVHP (Conventional) vs. HVLP
Nozzel choice
Setting up the gun
Pressures and fan patterns
Materials you can spray and how to thin them
Mixing ratios
Water based, Oil based, Spirit based, Dyes, Stains
Sealing the wood and treatments pre-sealing
Pre - Cat (pre catalyst lacquer)
Tints and Ageing
Colour shading
Clear and coloured laquers
Spraying techniques with both Conventional and HVLP
Health and Safety
Ventilation
Tips and ideas for making your own spray booth at home
All materials provided but should you wish to bring your own paint or gun and compressor please feel free to do so and you can work with your own equipment and ours. Large CFM compressor on site.
Event Details
Date
21 Nov, 2020 - 1 Dec, 2020
---
---
---
Venue
The Great British Woodshop
Cherry Lodge
Oakcroft Rd
West Byfleet
KT14 6JH

Get Directions
---
Event Tags

Indoors and Outdoors
---