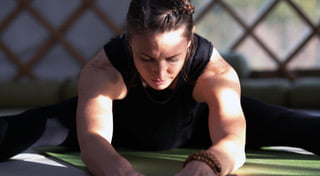 Event Description
A deeply healing, nourishing day where we will guide you through both ancient traditions of pottery and yoga, which work seamlessly and in tandem, in healing the human nervous system and opening us up to our innate potential and creativity.
The morning will be dedicated to a combination of Hatha & Tibetan yogas and meditation practice inspired from within the Buddhist tradition.
The afternoon will focus around a pottery workshop, where each participant will be set up on a simple handmade workstation, Japanese style, learning to hand build an individual piece to keep, fired at the potters studio. Absolutely no experience necessary.
Delicious lunch included, teas & snacks throughout the day.
About the teachers:
Samantha Roy: Yoga teacher, and practitioner of Hatha and Tibetan Yogas. My motivation is to draw from the core central themes of different lineages in helping teach 'conscious' yoga to help spread benefit more widely across an increasingly globalised planet. Sequencing is built mindfully and progressively from the ground up with deep attention to physical and subtle body alignment. The fluidity of vinyasa (conscious placement) is combined with periods of holding postures for more extended lengths, learning how to 'tune in' and feel our way meditatively, rather than forcing in any way.
Tom Butcher: Brighton based potter, with 20 plus years of experience of working with both hospitality and retail clients, as well as supplying bespoke plates and bowls to some of the most highly rated fine dining restaurants in the UK. I started my career at Brighton University then moved and settled to the shores of Loch Long, Scotland, where I overlooked the Arrochar Alps, surrounded by the inspirational scenery of the Loch Lomond. Inspired by back to basics rustic living, my first range originated as simple, functional items designed for family and friends.Two decades later having come full circle, I returned to the sunny south and the sea, to refine a collection of functional tableware, 9inspired both by the Japanese principle of Wabi-Sabi (where imperfections are necessary for full appreciation of the object) together with Scandinavian simplicity of form and tone.
Event Details
---
---
Price
£125 per person which includes pottery & lunch
---
Venue
The Yoga Garden
Swallows Lane
Horsham
West Sussex
RH13 8NN

Get Directions
---
Telephone Number
01903 892459
Book

Event Website
Event Tags

Indoors and Outdoors

Enquire
About this event
---