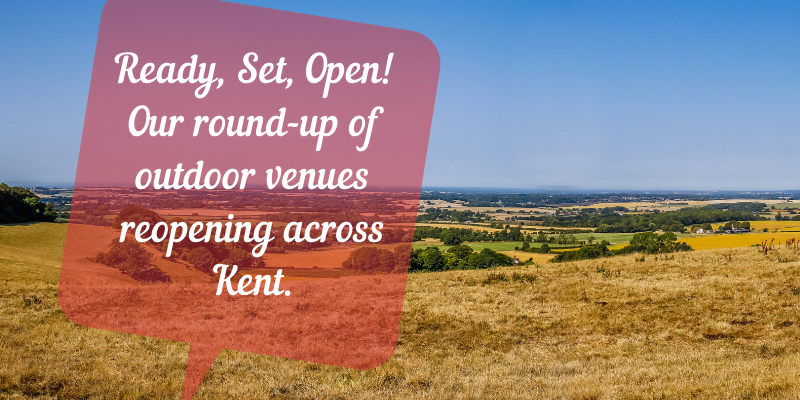 Ready, Set, Open! Our round-up of outdoor venues reopening across Kent.
As we enter month three of lockdown, many of us are understandably looking to travel further afield than our back gardens to enjoy the summer. So just where can we go in Kent right now?
National Trust welcomes back nature lovers
At the end of May, the National Trust began a phased re-opening of its grounds to visitors. According to their website, all visitors are advised to book in advance, to avoid being turned away, as they limit the number of visitors to maintain social distancing. They also recommend early bookings to avoid disappointment as tickets are selling fast. New tickets are released every Friday for the following week, so do check back regularly on the National Trust website as new parks and gardens re-open weekly.
National Trust venues re-opening in Kent & Sussex: Bateman's, East Sussex, Bodiam Castle, East Sussex, Chartwell, Kent, Knole, Kent, Nymans, West Sussex, Scotney Castle, Kent, Sissinghurst Castle Garden, Kent, Standen House and Garden, West Sussex, Sheffield Park and Garden, East Sussex.
Get green in your garden
If you are a home bird, maybe you would prefer beautifying your garden instead? With summer fast approaching, it could be the perfect time to look for a barbecue, sun lounger or just some pretty flowers to brighten up your garden. Whatever it is you are looking for, you should be able to find at one of the following garden centres: Grovewell Garden Centres, Tenterden, now open 7 days a week; Merriments Gardens, Hurst Green, now open between 10am and 4pm daily; Bumbles Plant Centre, Cranbrook, now open 7 days a week; and last but not least, Millbrook Staplehurst, also open 7 days a week, although please note that the cafe is currently closed.
Blow the cobwebs away
 If you prefer the outdoors, you will find extensive parks and gardens to visit over the coming months. Here are just a few of our favourite places for you to discover: Bedgebury National Pinetum and Forest, now open between 8am and 6pm daily; Mote Park, car parks open daily, although please note that the cafe and play areas are still closed. Meanwhile, the beautiful Harrison's Rocks are now open, with free car parks during lockdown, although the public conveniences and campsite remain closed. Riverhill Gardens and Penshurst Place and Garden are now open for pre-booked visits only, so make sure you book your space early! Hole Park Garden is open during lockdown with no pre-booking necessary. The gardens at Hever Castle and Gardens are also open to visitors (although not the castle).
A traditional taste of Kent with English Heritage
English Heritage are happy to announce the reopening of some of their historic sites in June. Advance booking is essential, as social distancing measures are put in place to limit the number of visitors for the safety of all. Venues re-opening on 13th June include Battle Abbey, Brodsworth Hall, Kenilworth Castle, Old Sarum Castle, Wrest Park.
Let the children blow off some steam
Let's not forget our children, the true heroes of this pandemic. Here is just a selection of sites that we think families and children with itchy feet would love exploring.
Mr Mulligan's Dino Golf, Tonbridge – now open for pre-booked visits only.
Port Lympne Safari Park – re-opens on 15th June.
Howletts Wildlife Park – re-opens on 15th June.
East Cliff Pitch and Putt Course, Folkestone – now open between 9.30 am and 7 pm daily
We're so excited to see so many outdoor venues reopening across Kent, particularly now that summer is just around the corner. So many places to visit…so little time.
What will you visit first?