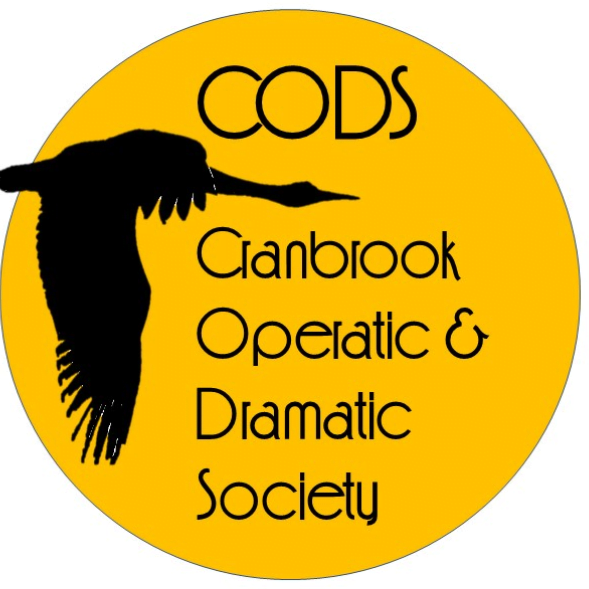 Cranbrook Operatic and Dramatic Society (CODS) is an amateur theatre group that has been active in Cranbrook for over 100 years. CODS was founded in the Autumn of 1919 and began rehearsals for its first production – of Gilbert & Sullivan's The Mikado performed on the 28 & 29 Jan 1920 at The Vestry Hall in Cranbrook.
The enthusiasm and talent continues today with CODS producing a variety of shows each year, including plays, revues, musicals and pantomimes. Cranbrook Operatic and Dramatic Society (CODS) is a charity and encourages the performance of all forms of good quality amateur theatre; musical, drama, and comedy.
CODS also boasts a lively social scene, including after-show meals, barbeques, walks, workshops, quiz nights, barn dances and theatre trips, an integral part of the life of the Parish. For the most part, members are part of the Cranbrook community and donating their time to work on stage and backstage, to provide live theatre for the locality.
What's coming up this year for Cranbrook Operatic and Dramatic Society (CODS) ?
EUROVISION
The days of nil points are officially over! This year the biggest show on the continent is being hosted on home turf, if you can't make it up to Liverpool then join us at Queen's Hall Theatre, Cranbrook.
Tickets are required for our live screening BUT are FREE Queen's Hall Theatre, Cranbrook in association with CODS.
13th May from 7.30pm
Made in Dagenham
Based on the 2010 film of the same name, Made in Dagenham is drawn from the real-life 1968 sewing machinists strike at the Ford factory in Dagenham, Essex which was influential in the passing of the Equal Pay Act of 1970.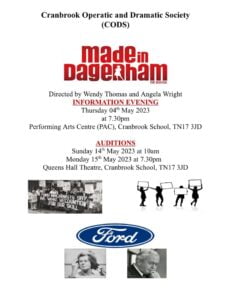 Auditions : 14th & 15th May 2023
Performances : 26th – 28th October 2023
And last but not least…
Well done to the cast and crew of BLACKADDER GOES FORTH – OUR AUDIENCES LOVED YOU!